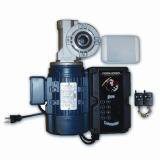 Shore Commander
This boat lift drive system features industry leading direct drive technology, wireless remote convenience and dock lighting for safety.

Specifications
·  2 Wireless Remotes with 3 Button Fob
·  3 Phase Motor
·  Canopy or Dock lighting for added safety
·  Drill operated system for emergency back up
·  Quick, easy installation
·  Easily installed on Pier Pleasure lifts and other manufacturer's lifts
·  Available as 110 Volts AC or 12 Volts DC.

Technology
·  Direct drive technology eliminates weak power problems and slippage commonly found on rubber wheels, which only push against the lift wheel. With direct drive technology the hand crank is removed.
·  Wireless Control up to 100 feet
·  8 Digit Keypad with Security Code on main control box.

Quality of Workmanship
·  Full 2-year warranty
·  Smooth and quiet lift operation
·  If you are not satisfied, send it back for a replacement drive or your money back.