Borgert Concrete Products Available at Palmer's Landscaping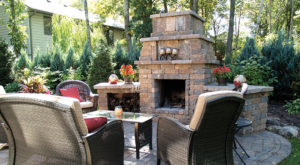 Palmer's Landscaping Contractor Sales Division offers Contractors a variety of quality Retaining Wall and Paver products. One of our leading suppliers is Borgert Concrete Products. A family owned and operated company since 1923. Their mission is to "produce premium interlocking concrete pavers and related products, with a responsibility to customer attention, employees, and the environment."
Palmer's Landscaping Contractor Sales serves Landscaping contractors, Excavating contractors, and Building contractors, in Western Wisconsin and surrounding areas. Palmers Landscape division has been serving residents since 1983. We started our Contractors Division in 2009 and Borgert Products has been one of our staple products that contractors repeatedly turn to for quality landscape jobs. Borgert products are aesthetically pleasing. They are very durable, low maintenance, and have environmental integrity. To qualify for Palmer's Contractor sales, you must have a Business with State and Federal Tax ID numbers. You can view Borgert's catalog here.
Borgert Products produces quality tumbled and non-rumbled pavers, retaining wall blocks, and decorative colored concrete steps. In both the paver line and retaining wall line Borgert offers a wide variety of blended and solid colors to choose from.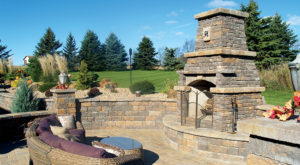 Enjoy good times with family and friends around a crackling fire in one of Borgets Outdoor pits or cook your meals outside in one of Borgert outdoor ovens. The fireplaces are engineered for mortarless block retaining wall units. That will with stand the test of time.
Established in 1923, Borgert is a strong and proven leader in the industry. They started out manufacturing block and precast. Over time, they have evolved into manufacturing Retaining Walls, Concrete Paving Stones, and Slabs. The company's success is due to the hardworking team of people at Borgert Products. They employ skilled and knowledgeable people who work hard to produce the best product, with an impeccable commitment to its customers. To top it off, they received the 2016 Small Business Owner of the Year.
Palmer's Landscaping goal is to provide the best products on the market with great service to contractors and attention to detail at competitive prices. Once you're ready to get started with Borgert Concrete Products Contact Steve Palmer at 715-483-9222.